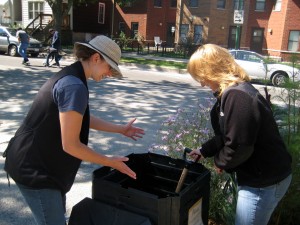 The LUCY FLOWER GARDEN CLUB hosts:
"Composting in an Urban Environment 101"
led by Lauren Warnecke
When: Saturday, September 17
Where: Lucy Flower Park
Time: 11 a.m. – 1 p.m.
Cost: Free!
What: Learn about composting as we set up a new compost bin at Lucy Flower Park! Master Composter Lauren Warnecke shares info on urban composting that is fun, fascinating and hands-on. Lend a hand and learn as you go…we hope to see all interested families at Lucy Flower Park!
Lauren Warnecke is a Master Composter through the University of Illinois Extension and volunteers in various community and educational settings. She is especially passionate about vermicompost and composting in the urban environment. In addition to digging in the dirt, Lauren enjoys baking scones, growing strawberries, and dancing in the park. For more information on Lauren, visit http://craftylauren.wordpress.com