Once again, it is that time of year for Ms. Nicole and I to team up and teach workshops that are creative and stimulating for the ol' grey matter.
We wanted to share some of the exquisite work and collaboration that went on during our first two workshops, Fine Motor and Readers and Writers I. Not only were our students a pleasure to work with, they also brought candid, fresh ideas and kind, friendly attitudes…curiosity to learn and eagerness to share their expertise…and a genuine respect for the idea of critique versus criticism.
Fine Motor Workshop helped students hone fine motor skills — who wants their child to grow up and mash with palms like barbarians?! I think we should all work for the artistry of a calligrapher and the precision of a surgeon when it comes to fine motor development in children.


Exposure and repetition is key…try chopstick races with cotton balls, no touching with hands allowed…try working through different viscosities of clay to build hand and finger strength as you knead and roll and sculpt…try using five different types of child scissors just to get the "best feeling pair." Then you would have a small taste of our fine motor workshop.
TRY IT: Get a piece of thick pink foam, styrofoam, or cardboard. Tack a simple black and white picture over a plain piece of paper — attach it to your foam. Use a pushpin to "dot" over the black lines, making certain to get all of the details. Remove the black and white picture to reveal the pinhole paper underneath — place it in a window to let the light shine through your work!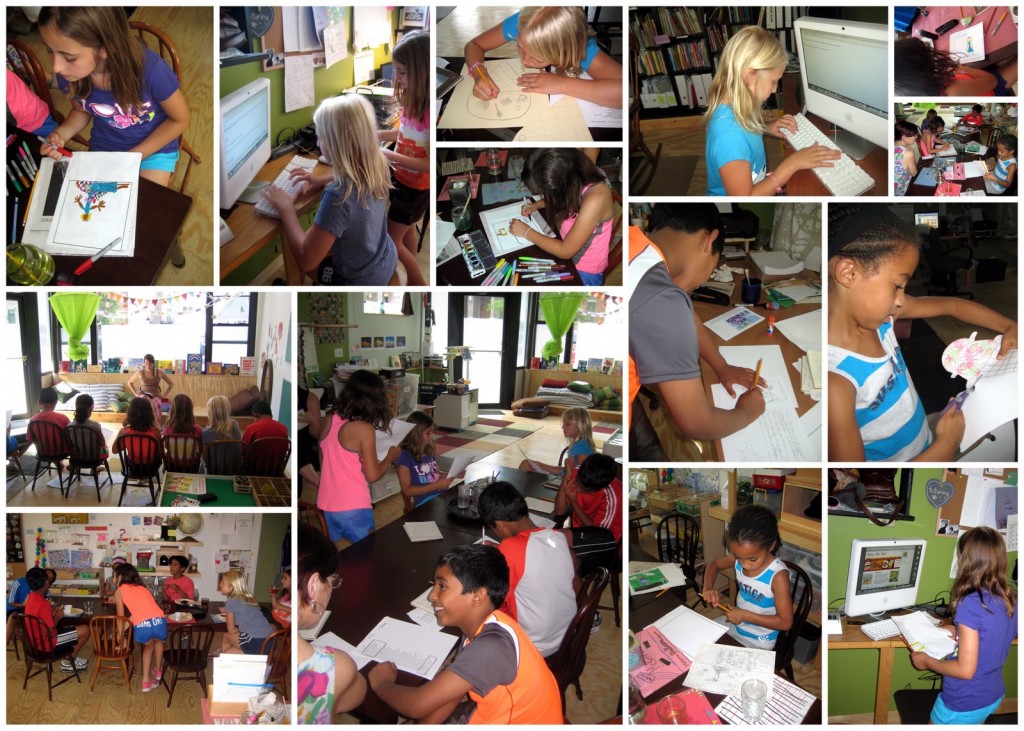 Readers and Writers Workshop I helped students in an area they often struggle with — getting the story started.
We talked about ways the author needs to "hook" the reader in, and listened to examples of "hook" through setting, dialogue, device, or character. Students shared what they noticed about a variety of award-winning authors, critiquing works such as Charlotte's Web, The Adventures of Tom Sawyer, The Incredible Journey, and Odd and the Frost Giants.
After critique and discussion, students broke off solo to try their hand at a story hook in the manner discussed…teachers gave gentle nudges where needed. Creating "trees" and "webs" can be helpful tools, but we also found that sometimes 20 minutes and some focus are all you need.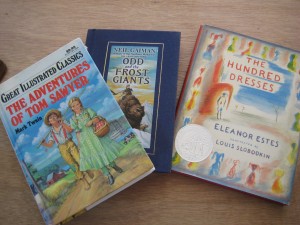 Here are some wonderful examples from our writers, ages 6 – 10:
DEVELOPING A COMPELLING CHARACTER TO HOOK THE READER IN–either think of a character that already exists in fiction OR create your own, be as descriptive as possible, as though you had to tell a blind person (and no "lazy" adjectives like "awesome" or "beautiful" or "cool"):
He was super strong and skinny. He was a kid. He could fight over and under water. He was eight years old. He could extend his arm out 11 feet. He could drink ten drinks together.
His name was K-Power.
DEVELOPING A COMPELLING STORYLINE THROUGH THE SETTING OR PLACE–students cut up the work of another in class and restructured sentences to make a stronger edit (and have fun) TRY IT! Print out these sentences, written about Hawaii, and rearrange them into what you think is the best order. Is the story more compelling? This is another writing trick anyone can try, especially if stuck: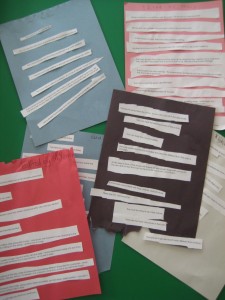 It is hot and sunny–there are frogs and parrots.
The places to go are much different than in Illinois.
There are hot lava volcanoes in the town.
The salty water and the coral make the beaches different from the ones in Chicago.
The land is surrounded by ocean, so you can cool off.
The most fun thing is the nature.
You can hear the swishing sound of the ocean.
You can taste the coconut water.
At the lake , we caught frogs with our hands. You are able to feel the frogs' bumpy backs once you catch them.
HOOKING THE READER THROUGH INTERESTING DIALOGUE–one of our most difficult assignments, convincing dialogue can be confusing at first, with the commas and the quotes and whatnot… this took both peer and teacher editing to pull together. Here's a beautiful edit:
I was going to my Grandparent's house in Arizona.
My Grandpa told me, "Your Great-Grandmother is in the hospital and your Grandma is visiting her."
The day my Grandma came back, something terrible happened: my Great-Grandmother died. Everyone acted normal in front of my brother and me, but we knew what had happened. My brother and I talked about it.
"Why is everyone acting so normal about this?" I asked.
"They don't think we know, and they don't want us to know," he said.
My brother and I didn't tell our family we knew, and we never did.
TRY THIS INCREDIBLE EDIT–OUR AUTHOR REALLY PUSHED HERSELF TO MAKE IMPROVEMENTS:
We got to art and drew puppies. It was fun but then it was time to leave camp. We got popsicles and went to sit down.
As we were waiting to leave, I asked Tori, "Is that an ant coming out of your lunch box?"
"Yes, there are millions!"
"I think I can get them out," said a counselor. "My name is Cary. Let's dump it out and clean it with a wipe."
"Thank you, Cary," we said. We took a paper towel and killed some of the ants. Then, we shook it and took a wet wipe and cleaned it out.
"We have to go now, bye, Cary!" We waved to Cary and Tori's mom picked us up. She got us more popsicles as we told her about the ants.
"Wow!" her mom said.
WANT TO READ MORE?! THIS HOOK IS FANTASTIC, reminded Ms. Amy of Sherwood Anderson:

There is a house in a small town near the forest. This house has many mysteries. This house is near a huge sideyard, which holds many mysteries itself.
The houses in this town are big. The supermarkets are big too, but the restaurants are smaller. The shops are a good size.
In the middle of town, there are always people walking. The townspeople love it here because they have all the resources they need in a nice, small town.
Over the lake you have an exceptional view of the clear, sparkling water. The lake smells strong, like fishes, but the air is not unpleasant. You can hear rippling noises.
You should play on the sandy beaches.
You should taste the freshly grown blueberries—they are juicy and less squishy than the ones that have to be transported from other states.
************************************************************
In addition to writing exercises, we created a class comic by making a goofy Mad Lib and discussed the comic as a legitimate literary form.
We also dissected the Sunday New York Times and created our OWN newspaper through loads of collaboration. Students worked at typing and formatting written documents (and working with the authors when handwriting or ideas weren't strong enough), discovered that layout and content (quantity) can be a tricky problem to tackle, and created writing specifically for sections that were student-selected, such as Style, Travel, Sports, and Book Review. We even felt the pressure of our deadline, and hustled to finish our work!

Brother Versus Brother_new
(Click the file link to read a great sports review!) As if this weren't enough, we spent the last portion of our days practicing our read-aloud skills for Readers Theatre. We practiced good diction and elocution, praised risk-taking with character voices and dramatic skill, twisted our tongues, transformed into characters, and hopefully entertained our Friday audience at least a little!
A flash drive of work and photos, a newspaper, a comic frame, and a journal of story starters made for parting gifts…along with the reveal of our "secret friends!"
MS. AMY EXTENDS A CHALLENGE: To all you Readers and Writers out there, I want to challenge you!

1. Take any work that you started in Workshop and expand on it.
2. Email it to me for editing at director@cortlandpreschool.com
3. Revise as needed
4. Turn in a final work (possibly with illustrations) and I will add it to the Student Writing Portfolio that is going to be printed this fall. You'll be able to order a finished, beautiful version through Shutterfly!
DID YOU KNOW? We still have room in our last three weeks of workshops! Registration can be found by clicking here, and you'll receive confirmation within 12 hours.