Written by Amy Drost
From Ms. Amy: This info came about from a photo that Amy Drost emailed me. I recognized the refrigerator poetry magnets that were so popular when I started college…except in this photo, they were huge, and in scale with the magnetic letters placed just below by a child's hand. "Magic" is right, Cody! Fun learning magic. I hope you'll enjoy this info, and thanks again to the Drost family for the great ideas.–AE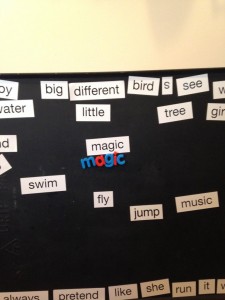 My son Cody was extremely resistant in the language arts areas for a long time, but is now really taking an interest. Here are a few things we do at home that have worked for us to jumpstart Cody's willingness to participate in early literacy building activities. (Me again. I want to jump in and mention that these active, kinesthetic experiences help children explore when they are cognitively ready. Don't push if your child isn't quite there yet, just set the scene for exploration.)
Huge Magnet Board
We bought an aluminum "oil drip pan" for under $10 in the auto section, and spray painted it with chalk paint. We attached it to our wall, at toddler height, using adhesive Velcro strips (Hey there, or you can pre-drill and screw through it and into a stud.) The drip pans are about 2.5′ x 4′ so your child has a huge working area. (Mrs. Alexa did a similar project in her unused fireplace–ask her about it.)

I started by randomly choosing 5 or 6 words from the magnetic poetry tin that I thought would pique his interest and put them on the board.
We already had the magnetic letters kit and, without prompting, he began using the magnetic letters to spell the words I put on the board (see photo.)
From that point, he began asking all kinds of questions about the words, and we have started making sentences together. Lots of great conversations have started this way, and his interest in books and reading has exploded–this is a kid who almost never wanted to sit next to me and read. Now, it has become a favorite activity.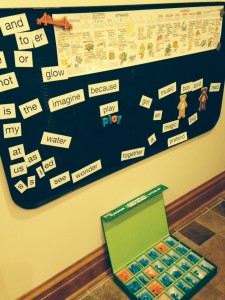 Also, after many failed attempts to get him to write, I discovered a website called www.1plus1plus1equals1.com that has really awesome printable activity packs. There is a "tot pack" and a "kindergarten pack" and they come in different themes. The theme we chose to laminate, and use (w/dry erase pen) on a daily basis is Octonauts! There are other tv show, and non-tv show themes as well. We bought our hot/cold laminator at Costco for $20 and it came with 100 thermal sheets in various sizes. It's small and easy to store.
Another writing tool that intrigues him is a stencil board of capital letters that includes the arrow instruction for each letter. It is made by School Rite and is also available in lower case, cursive and numbers. (www.school-rite.com) We use this with laminated surfaces and dry erase pen, too.
(In closing, I think I can speak for Amy Drost when I say that it is exciting when you strike upon ideas that make your child light up and want to learn in new ways. Experimenting is key–these ideas use kinesthetic/tactile feedback to help teach a skill. What is a kinesthetic learner? Read more here!)
OTHER RESOURCES:
Classroom Magnetic Letters Kit: (also available on Amazon)
http://www.lakeshorelearning.com/product/productDet.jsp?productItemID=1689949371896957&utm_source=google&utm_medium=ppc&utm_campaign=PLA&CAWELAID=520011010000002266&CAGPSPN=pla&catargetid=520011010000031760&cadevice=t&gclid=CIOg-t3OksYCFY4AaQodBGsAhw
Magnetic Poetry Words for Kids:
http://www.amazon.com/Magnetic-Poetry-Kit-Really-Words/dp/B00003JATS