Sizing Up Your Child's Feet
Written by: Dr. Andrea L. Peach, DPM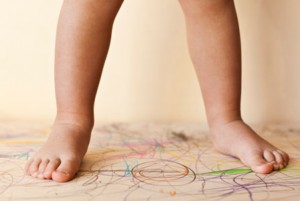 Examples and Measurement Tool
As a Podiatrist, and a mom of 3 adorable children under the age of 5, I am often asked questions concerning children's shoe gear, shoe choices, and how to measure a child's foot.
I am an advocate for barefoot walking, as long and as much as possible, before needing to stuff those cute little fat feet into shoes. But what after that?
You need to remember when choosing proper shoes for your child what sort of activity your child will be engaging in. What do you think of when you close your eyes and envision a fun-filled day of learning at Cortland? What variety of movement do you see? How comfortable and practical should your child's feet be?
Little feet need to be protected, supported, and fitted properly. Exposed feet, loose fitting shoes, or "fancy shoes" have little place at the playground or school; flip-flops, crocs, and dress shoes should be reserved for the beach, back yard home play, and special occasions, respectively. A good athletic sneaker is your best bet for an active school-aged child.
Some brands to consider might include: Stride rite, New Balance, Saucony, and Umi. (**check websites for discounts, specials and free shipping. The best time for discounts is normally around a holiday. Try online discount websites like 6pm.com as well. Stride rite also offers some amazing sales around Black Friday! I normally order a few sizes up for my kids around that time and stock up for the upcoming season.)
Your feet are the foundation for your whole body. Proper shoe gear is important for pedal development, balance, gait, protection and muscular movement. The younger the child, the faster the feet will grow. Did you know that it is recommended for a child under the age of 3 to have their feet measured every 2-3 months for new shoes? After the age of 4, growth tends to slow down a bit, and you can typically have a pair of shoes last 6-8 months until a new pair is needed.
What to consider when purchasing new shoes for your child:
1. A child may not complain about shoes they have outgrown. If you notice a change in your child's gait, or excessive wear pattern on the back of the shoes or inside lining, it is time for new shoes.
2. Children's feet sweat more than adults. It is important that a child wears clean cotton socks for breathability. Canvas, leather, and other natural fabrics are better materials for shoe gear for the same purpose rather than synthetic materials. Avoid plastic shoes in little ones, as they do not breathe, cause a child's foot to sweat more, and can cause friction rubbing and blisters.
3. If you are looking at using hand-me-down shoes, or consignment shoes, check the back heel of the shoes for wear patterns.
4. Shoes that are too small tend to cause blisters, pain, and even ingrown toe nails. Shoes that are too big can cause a child to trip over their own feet.
5. It is always best to have a child try on the shoes and check for proper fit. Make sure the back part of the shoe does not slip out while walking. Also, with the shoe on the child, make sure you have a small fingertip space from the tip of the big toe to the tip of the shoe.
6. Keep in mind when ordering on-line, that shoe sizes vary from company to company. Even with using a sizing guide, read reviews to check if a brand runs small, large, or true to size. Always have the flexibility to return and exchange a pair of shoes if necessary.
How to measure your child's feet for those new shoes.
1. Whether at a shoe store, or at home, have your child's feet measured at the end of the day. A person's foot tends to swell as the day progresses, so a measurement in the morning would tend to be narrower and possibly smaller than at the end of the day.
2. When you measure your child's foot, have them wear a normal pair of socks, to make sure you get a more accurate measurement of the bulk needed inside of the shoe gear.
3. To measure your child's foot, have them stand with "full weight" on a sheet of paper. Make a mark at the back of the heel and a mark at the tip of the longest toe. Measure the length between the center of the heel mark and center of the toe mark.
4. Measure both feet, as normally one foot is longer. Always use the longest measurement when purchasing a size for your child's shoe.
Remember that little ones will grow right before you in a blink of an eye. Let's give our little ones a great foundation for growth, development, and safety by sending them off to school best-foot forward.