Nanny Shares–Our Experiences
written by Cortland mom, Megan Canty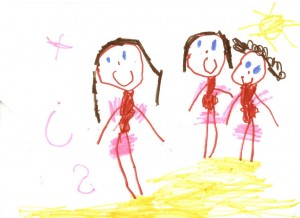 Selecting the right child care situation for your family can be overwhelming, and living in a city like Chicago, the options are very different from what my husband and I experienced growing up (we both basically went to a neighbor's home.) We had our first child before anyone else we knew well in the city had children (and neither of us is from the Chicago area), so we were on our own in navigating this process.
After visiting and researching day care center options, we decided those would not be best for us, considering there were none very close to our current home or offices, and since neither of us drive to work; taking one or more children on the CTA to one destination and then heading to work and doing it all again every evening sounded like a poor option. We knew our actual time together as a family would be limited given that we'd be spending so much time commuting every day.
Next we looked into having a nanny. Having in-home care and one-on-one interaction sounded great but our two concerns were first, the cost, and second, the lack of exposure to other children.
My research led me to www.npnparents.org where I found message boards, informational posts, and actual events, like one we attended on child care options, where we first heard about nanny shares. This sounded like a great option for what we wanted—a home environment, another child for our son to interact with as he got older, personalized attention, and not as expensive as paying for a nanny on our own.
I can say we have been so happy and fortunate with both nanny shares we have been in. Our first share lasted for two years, and we are still friends with our "share family" and our nanny. We found the share family through the NPN message boards, where many people post child care classifieds.
Once we found a few people who lived in our neighborhood, we communicated over email to discuss what everyone was looking for in a nanny and in a share, and eventually met with
this family. We hit it off right away and hired a nanny together through an agency. Agencies charge a fee to help you and it can be pricey, but that way we knew everyone we interviewed was ok with taxes being withheld, had the kind of experience we wanted, etc. Agencies do all of the reference and screening work for you, which is nice, and I felt like everyone we interviewed was a strong candidate.
The first share wasn't without its bumps in the road–we had two nannies who did not work out until we found our amazing nanny, but having a great relationship with our share family
made it all work out. I think it's incredibly important to make sure you take the search for a share family as seriously as you take the search for the nanny, since you are making a lot of decisions together and your children are spending so much time together. A family whose ideas about raising children are in stark contrast to your own is not going to be a good fit, so you want to essentially "interview" each other. For that share, we walked our son the few blocks to the share family's home each day and picked him up, which worked out very well.
We are now on our second nanny share–we moved when our son was two just before having our second child, and unfortunately our new home took us out of our neighborhood, so our first share ended. We were so sad to leave that share and wondered if finding another would be hard.
The second time around, it took us many tries to find a family we were comfortable having a share with–we had been incredibly lucky to find the first family so quickly, but eventually we found another great family. This time we wanted to host the share at our home, as my husband had recently changed jobs and would be traveling a lot more, and I wanted to make my commute each day as simple as possible since I would be on my own fairly often.
This time, we actually found our nanny through the NPN web site as well as our share family. Sometimes families will post about how great their nanny has been, and how they want to help him or her find a new job if the family is moving, children no longer need full time care, etc. Nannies will also sometimes respond to a classified you might post, which is what happened in our case. Also, sometimes you find a family who already has a nanny and is just looking for a family to share with, so you can interview both the family and their nanny at the same time and see if it is a good fit.
Since we did not go through an agency the second time, we had to do the screening and
paperwork ourselves, but it was not difficult and we once again have a great nanny share.
Overall, we love doing nanny shares–our children have regular interaction with other kids, they get a home environment for child care, and they have very close attention from our nanny. We've also gotten to know some great families through our experiences.
The main advice I have on nanny shares is this:
1. First, make a list of your needs. How many hours do you need? Do you want to host some days or every day or not at all? If the share will be in your home, what do people need to know (for example, do you have a dog?) What are things about other people's homes that you would want to know if a share will be hosted there? These basics help to rule out situations which simply won't work out because of differing schedules, or an allergy issue,
aversion to smoking, etc.
2. Next, decide on financial issues–how much can you afford to pay and how much are you willing to pay? (Most nanny shares split the rate in half between the two families, but if one family has more children than the other, that ratio will change. Simply, if you hire a $20/hour nanny, a fair split is $10/hour for each family.) How will you handle taxes? Are you willing to pay an agency fee for help with a nanny search, or is that not in your budget? Once you have a nanny, do you have a budget for outings or classes for the children etc.?
3. Next, decide what you want in a nanny and what you want in a share family. This includes both the qualities you are looking for and the type of relationship. In terms of finding a share family, is this going to be purely business or do you hope to befriend another family and have your children spend time together outside the share? It's best to be clear upfront.
4. Once you've answered these questions, you can really start your search since you know what you are looking for. Make sure to keep in mind that there will always be new questions and some problem solving to be done as families' needs will change over time. The most important feature of a nanny share, in my opinion, is communication–between you and your share family, and between the two families and the nanny, making sure the nanny is getting clear and consistent information from both families, and making sure everyone is comfortable with the share situation. I hope you'll consider the nanny-share option for your own family!