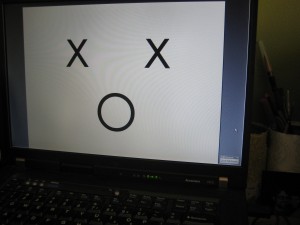 The season of IT frustration seems to be upon us, first with the edublog photo glitch and now with an email forwarding issue through director@cortlandpreschool.com
Through the IT grapevine, I have heard that the past two months have been dicey for IT folks as they keep all manner of nasty things away from our smoothly-running, "no need to pay attention to the man behind the curtain" world. While I dislike the inconvenience and I certainly shudder to think of the emails I may have missed in the past 2 to 3 weeks, I know that our blog provider (edublogs) and ISP (1and1) work hard to keep our information safe.
If you have sent an email to director@cortlandpreschool with no respone in the month of February, please pardon the glitch and send it again. I always try to reply within 48 hours.
(Note: to be certain this doesn't happen again, I'll be doing a daily test to verify all email is forwarding and flowing the way it is supposed to from the magical ether-land of 0's and 1's. Thank you for your patience, good humor, and understanding.)