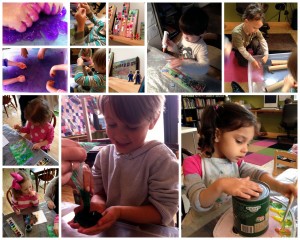 In 2009 we wondered…
Could we create a Reggio Emilia inspired preschool that speaks to an urban neighborhood? Could we teach in ways that we believe to be best practice based on current research, committed reflection, and experience?
What would we create if we did?
How would it develop and change over time?
What greater good might we accomplish for children, families, communities, and the human race?
Who would wonder with us?
What are the "Bridge Years"?
Cortland Preschool was conceived in 2009 as a ten-year educational project centering around, and committing to, the Reggio Emilia approach to teaching and learning within a North American, urban context. Launched in 2010, Cortland Tutoring and Cortland Preschool have been serving happy families in Chicago's West Bucktown / Logan Square neighborhood for nine years.
Cortland's teachers and director, Ms. Amy Ewaldt, started discussing in earnest the preschool's long-term goals and future in 2016. We targeted and launched the Bridge Years (September 2018 – August 2020) with the idea that more brains make for better thinking, and shared, common goals for the future of Cortland Preschool are worth planning for. With a "come and go" committee of alum, current families, mentors, colleagues, friends, and family, we work together, "bridging" Cortland Preschool into a shared future.
Who is on the committee?
The Bridge Years Committee is a "come and go" committee comprised of regular Cortland mentors like Neal Bader (Menomonee Club), Elaine Coorens (Our Urban Times), Mary Pat Garr (Columbia College Professor Emerita), Mary Artibee (SUN Microsystems), past and current Cortland teaching staff, past and current Cortland families. In addition to the core group, Cortland teachers engage regularly with colleagues from Francis W. Parker, Greenfields Academy, Willow Tree Development Center, and the University Primary School in Champaign, Urbana.
Director, teaching staff, and Bridge Years Committee members work toward a 2020 goal that supports Cortland's current work, future goals, and past and present community.
We are open and thankful for time, energy, resources, talents that you can add. We invite you to continue to wonder and journey with us.


Timeline:
2010 — Conception based on best-practices, research, and previous teaching experiences. Following licensing and construction, Cortland Tutoring opens at 1859 N. Talman Ave.
2011 — Formation of play groups and growth through word-of-mouth advertising. Ms. Ewaldt is elected to the Maplewood and Lucy Flower Park Advisory Council (MLFPAC) and the West Bucktown Neighborhood Association (WBNA).
2012 — Formal open Cortland Preschool
2013 – 2015 — Cortland Preschool fills to capacity and launches a successful p.m. program, which also fills to capacity. Cortland Preschool begins building an alumni database and annual alumni survey. Annual scholarship fundraising is launched to support half and full-day scholarships. Ms. Ewaldt is invited to join the Environmental Law and Policy Center's "Next Gen" Council.
2016 — Full-time teaching staff begin Bridge Years discussion, target August 2018 to phase out all full-time teaching positions to prepare Cortland for a potential merge, change, or move to new location. Ms. Ewaldt becomes a Master Gardener.
Maplewood Park Field House community fundraising initiated and led by Ms. Ewaldt and the Maplewood and Lucy Flower Park Advisory Council (MLFPAC) in conjunction with the 1st Ward Alderman, West Bucktown Neighborhood Association (WBNA), and Chicago Park District; this 1.5 million dollar volunteer-driven project scheduled to complete in June of 2019.
2017 — Ms. Ewaldt teaches at Columbia College Chicago, Early Childhood Department, in addition to roles at Cortland. Cortland Preschool receives a Chicago Excellence in Gardening Award for the Maxine Koss Memorial Parkway Garden.
2018 — Ms. Ewaldt attends the Professors and Students Study Group in Reggio Emilia, Italy. She begins collaboration with Reggio-based artist, Alessandra Caló. Cortland begins implementation of ideas born in Reggio Emilia, which include new daily mapping and assessment, the creation of a Pedagogista role, a deepened recycled materials study, development and implementation of "Reggio Emilia Styled" full-group parent / teacher conferences.
Ms. Ewaldt receives Chicago Excellence in Gardening Award for nine consecutive years of Lucy Flower Children's Garden Club efforts. Cortland Preschool switches to offering mornings-only classes with part-time teaching staff. Ms. Ewaldt shifts into role of Pedagogista.
Research on and relationship with Greenfields Academy Chicago begins.
Trusted developer and trusted realtor from the community identified.
Full time teaching positions end, p.m. program ends (August)
Consolidation of items including classroom materials, paperwork, files begins.
"Experience tour" infrastructure developed (online reservations, payment, scheduling); tested with Chicago Park District colleagues, launches Summer 2019.
Present:
2019 — Teacher with both education and film background hired to enhance and support children's media goals, which include development of short, classroom films to support research, education, and Reggio Emilia awareness.
Ms. Ewaldt compiles / refines internal data such as Alumni Survey results and database with Bridge Years parents.
Ms. Ewaldt returns to Reggio Emilia for a selective, Intensive Study Group; meets with collaborating artist, Alessandra Caló to discuss project "Light, Shadows, Reflections", and brings overview of Cortland history, projects, and community collaborations to Reggio conference (more info about this project to be found on Cortland's blogsite).
Research on and relationship with Scuola Italiana Enrico Fermi (SIEF) begins.
Two workshops for parent and teacher training developed: "Reggio Emilia 101" and "Environments as the Third Teacher" with Reggio Director, Ms. Andrea Cocke scheduled July and August 2019.
Future:
–Grow Cortland Preschool into a program that serves a diverse financial background, supports and upholds the rights of children and families, practices and maintains a Reggio Emilia focus for ages 3 – 1st or 2nd grade, and blends into either a Reggio or a project-based learning approach for grades 3-8.
–Publish work regarding recycled materials and child as artist versus consumer (in progress).
–Publish work regarding international collaborative study "Light, Shadows, Reflections" (in progress).
–Publish collaborative work that highlights all past Cortland Preschool teaching staff and gives each individual a voice to share a message of importance to the greater community (in progress).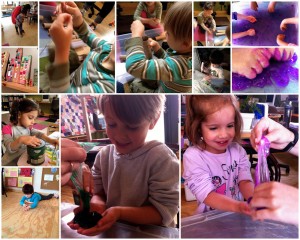 Bridge Years Committee has identified the following areas for exploration, development, consideration, and study:
–It is critical for Cortland Preschool to grow into a program that serves ages 3 – 8th grade. Our current and alum community, along with teachers, agree that Cortland families would be better served by being able to keep children in an educational environment that is either Reggio Emilia or project-based learning. Preschool must have full-day, half-day, before and after care options, within parameters. Cortland would ideally look to lead ages 3 through 1st grade or even 2nd grade. If merging with another school, Cortland's missions and goals must be simpatico with the partnering agency.
–It is critical that high-quality education is accessible to all. Might this be accomplished through a sliding scale tuition system? Bridge Years Committee members, Dave and Melissa Sedjo met up with Families Together Cooperative (thanks to Mike and Stephanie Collins-Dowden for the recommendation) to learn more about sliding scale tuition.
–To better engage and promote Reggio Emilia education and understanding, we will consider conversion of Cortland's current space into teacher / parent training / workshop space to maintain neighborhood presence / street presence if Cortland Preschool moves to new location or merges with another organization.
"Reggio is not a blueprint. It is an inspiration to be yourself, to find your own excellence and perfect it." – Jerome Bruner
Thank you for finding and perfecting excellence with us, we value your insights.
Cortland Preschool & Tutoring * 1859 N. Talman Ave. * cortlandpreschool.com and Facebook