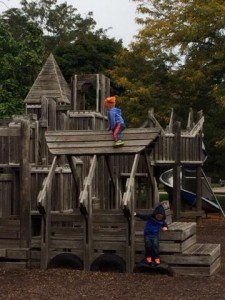 Indian Boundary Park
Written by Heather Bruce Boran
More than a hidden gem or a respite from the usual city hustle and bustle, Indian Boundary Park is a destination in its own right. Parents and caregivers looking for something a little outside of the usual are in for a treat. Spanning over thirteen acres and situated just northwest of the Western Avenue and Devon Street intersection, Indian Boundary Park boasts an expanse of picnic-worthy green grass, climbable trees, and a beautiful lagoon from which we spotted numerous ducks, a turtle, and a few jumping fish.
Park-goers also can enjoy a new-this-year water spray feature and splash area, a brand-new nature center and surrounding nature play area that is as peaceful and welcoming as it is beautiful, and — our family's favorite — a large wooden fortress of a playscape with plenty of room for imaginative play along with gross motor challenges for the toddler, preschool, and elementary school-sets. Our kids would happily spend an entire afternoon (and then some) hiding, sliding, balancing, and, as Sawyer puts it: "climbing up and up and up and up!"
The park's historic tudor-style field house also houses painting, piano, dance and voice lessons for kids and adults alike, and the Civic Orchestra of Chicago — in residence at the park — offers free concerts throughout the year. http://www.chicagoparkdistrict.com/parks/indian-boundary-park/ For upcoming events including a Make Your Own Nutcracker on December 6.
——————-
Cortland parent Heather Bruce Boran is a self-proclaimed, "corporate-lawyer-turned-part-time (adjunct)-law-professor-and-full-time-mom." (6 photos)